Please note that if you wish to make a general donation to the FACTS organization go to this link FACTS Donate.
On this page you can pledge an amount to donate toward the 52nd Street Bridge Project. At some time in the near future, an actual donation will be requested but the pledge is the first step in assuring COMPASS, the organization who will provide the 1.9 million dollar grant for bridge construction, that a local match will be available. Additional information about the bridge project can be found on this website under the heading of recent news.
THE BRIDGE PROJECT:  The Foundation for Ada/Canyon Trails Systems, Inc. ("FACTS"), in partnership with Garden City, is raising funds to design, construct and install a pedestrian bridge connecting Plantation Island at the west end of Garden City's greenbelt pathway system near the Les Bois Park Track.  
THE NEED:  Currently the Garden City greenbelt pathway system ends at 52nd St. It requires a detour away from the pathway. Users are required to enter 52nd St., which is a residential neighborhood with motorized vehicles and no sidewalks or pathways.  The pedestrian and bicycle detour is ¾ mile along the side of the old Les Boise race track before connecting back with the Greenbelt pathway by the Boise River.  The Bridge Project will connect the Garden City Greenbelt pathway system with Plantation Island which is already a part of the Greenbelt pathway system on the south side of the Boise river.  Cyclists and pedestrians will remain on the greenbelt pathway for the entirety of their journey after the construction of the bridge.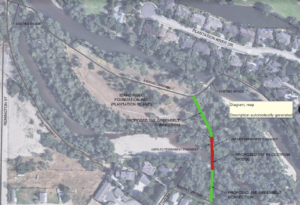 HOW FACTS IS PARTICIPATING:  The FACTS Board of Directors has established, by resolution, a special trust fund into which all donations to FACTS for this project, will be deposited.  The trust fund prohibits any expenditures from that fund except for the completion of the Bridge Project.  
HOW MUCH MUST BE RAISED:  The FACTS Board of Directors has committed to raise the sum of $110,000 toward this Bridge Project.  As of January 2, 2023, other agencies and sponsors have committed funds to this Bridge Project an include the following:  
Name Amount 
Garden City:  $30,000
Treasure Valley Clean Cities Coalition:  $10,000
We Now Need Your Help to raise $110,000 to provide the match to a 1.9 million dollar Federal Grant to construct the bridge.
WHAT ARE THE DONOR BENEFITS:  You will become a contributor to a much needed project that will benefit all users of the Greenbelt.  The Greenbelt has been a source of civic pride and accomplishment for 35 years. FACTS is a 501 (c) (3) nonprofit corporation.  Your donation will qualify as an income tax deduction.
The resolution about the bridge fund by the FACTS Board can be found on-line.